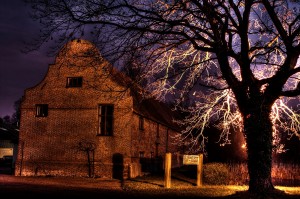 Omicron moved into The Long Barn in 1992 when we outgrew our previous premises. An attempt to purchase these buildings in 1987 was abandoned – contracts were supposed to exchange on the same week that the stock market crashed and the Great Storm swept England.
The actual barn is a Tithe Barn which was used to store the 'tithe', which was 1/10th of the grain and foodstuffs produced by the local farms and was provided to the Church. The current barn was built around 1650, but there are records indicating that there was a building on this site since about 1200 which ties in with our immediate neighbour, St. Mary Magdalene Church, and behind us is Mulbarton Old Manor which also dates from the 17th century.
The previous occupants were Norfolk Pryde, who used it as a kitchen and bathroom showroom, and to this day we get people visiting asking if we sell kitchen sinks!
The Barn is reputed to be the second longest Barn in Norfolk, built on the edge of the largest public common in Norfolk. The Dutch Gable at the end was probably a later addition.
Behind the barn is a newer building which houses the workshops and there are a couple of smaller rooms which house some engine machining equipment. When we moved in this was just a crude empty space, but we have had the roof insulated and fitted out with all the facilities we require.
The Barn has a mezzanine floor, the upper floor housing the offices and also our dedicated glass storage facility. Downstairs is completely shelved and house all our parts.
In October 1951, The Long Barn was declared a Grade II listed building by the body now known as English Heritage.
The barn was poorly insulated – terribly hot in summer and terribly cold in winter, so in the summer of 2008, the entire roof was stripped back to the rafters. Fire retardant sheeting was attached over the existing beams structure which was in remarkably good condition, and over that some special 'space-ace' insulation made up of layers of foam and foil was attached, then battens and as many of the original tiles were reused, with period salvage tiles replacing those rejected. Since then the temperature has been much more bearable. This was a very major exercise due to the size of the barn, and the fact that it was a working building that had to be kept weatherproof and usable as stores and offices whilst the works were completed.